TenuPol
TenuPol
Prepare thin specimens for transmission electron microscopy in minutes.
TenuPol-5 facts
Scanning function
Method Database
High specimen quality
The TenuPol-5 is designed for automatic electrolytic thinning of specimens for examination in a transmission electron microscope. Establishing parameters for new materials and storing them in the method database is simple, using the built-in scanning function and additional enhancement functions. The TenuPol-5 consists of two separate units - the control unit and the polishing or thinning unit.

A perforated specimen for transmission electron microscopy is prepared in a few minutes using a sample with a diameter of 3.0 or 2.3 mm.
Benefits
Fast determination of method settings
TenuPol-5 is equipped with a unique scanning function that scans a pre-defined voltage range to determine the current density curve. This curve is used to define the correct polishing voltage for the thinning process, allowing the user to store the parameters in order to find the correct method settings again after a single scan of a new material sample. The TenuPol-5 comes with filter and enhance functions to facilitate finding the correct voltage settings for polishing and etching.
Comprehensive method database
The built-in method database contains 18 Struers methods and up to 200 user methods. The 18 methods consist of eight methods for pre-thinning and ten methods for the final thinning of various materials. This means that the user can prepare a wide range of materials immediately without time-consuming trials. The user can also use the methods in the database as a starting point for developing their own methods for other materials.
High specimen quality
The specimen is polished from both sides simultaneously, thus providing a structure with an absolute minimum of deformation. When the perforation appears, the polishing can automatically be stopped by the infrared detector system, and the specimen is ready for TEM examination. No special operator training is required.
KEY FEATURES THAT ENSURE CORRECT POLISHING
Facts
Model types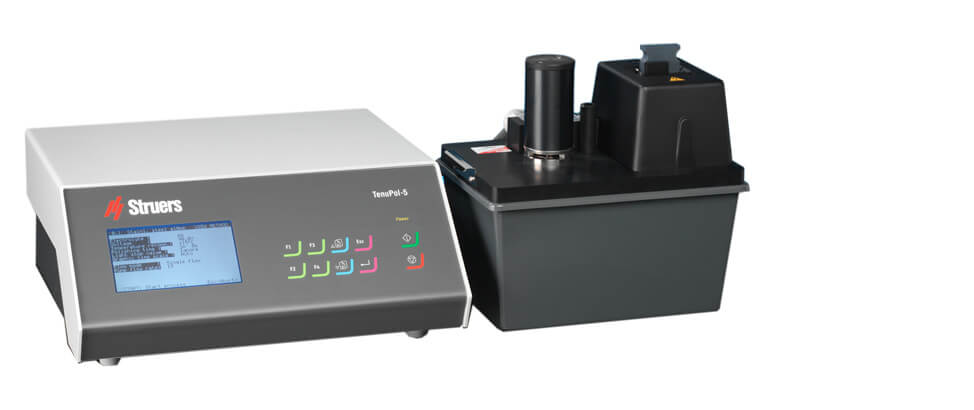 TenuPol-5
Control unit, with electronic thermometer and adapter for the connection of TenuPol polishing unit, with specimen holder for three mm dia. specimens, sets of jets, pump, cooling coil, insulated PVC container, non-insulated PVC-container, and a built-in photo cell.
Technical Data

TenuPol Technical Data Sheet
Struers Technical Data Sheets are designed to help you make the best choice of equipment for your particular purpose. You can find important information such as capacity and performance specifications, dimensions, weight, electrical data, noise levels, ambient conditions, and safety. In many cases you can also obtain an overview of accessories offering higher capacity and performance.
Struers' equipment is in conformity with the provisions of the applicable international directives and their appurtenant standards.
Struers' products are subject to constant product development. Therefore, we reserve the right to introduce changes to our products without notice.
---