LectroPol
LectroPol
Save time when polishing and etching with the automatic, microprocesser-controlled LectroPol-5 electrolytic polishing machine.
LectroPol-5 facts
Scanning function
Method Database
Easy to use
Maximum reproducibility
The LectroPol-5 is designed for automated electrolytic polishing and etching of metallographic specimens. A scanning function for easy determination of parameters, built-in safety features, and a database with methods for various materials enables short polishing times and maximum reproducibility.

LectroPol-5 consists of two units, the control unit and the polishing unit. The two units can be separated from each other.
Benefits
Automatic determination of parameters
LectroPol-5 features a scanning function that helps to determine the correct voltage for both polishing and etching, thus saving time and avoiding human error. LectroPol-5 displays the scan curve, while the user selects and sets the voltage. Instead of time-consuming trial and error parameter testing, it is now easy to find the correct settings after a single scan of a new sample material.
Method Database
The LectroPol-5 comes with ten polishing/etching methods for various materials, enabling immediate preparation of a wide range of materials without any lengthy and time-consuming trials. These methods can also be used as starting points for the development of methods for other materials. The LectroPol-5 database can store 20 user-defined methods.
Short polishing times and high reproducibility
Electrolytic polishing and etching have very short preparation times when compared with normal mechanical specimen preparation. Microprocessor control and database functions ensure the use of correct parameters. LectroPol- 5 combines both short preparation times and high reproducibility and is thus the ideal choice for fast quality control requirements.
KEY FEATURES THAT ENSURE CORRECT PREPARATION AND INSPECTION
Facts
Model types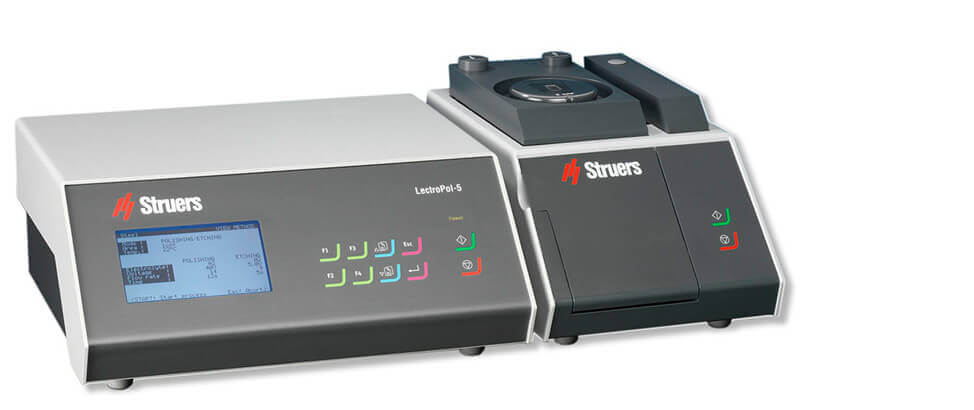 LectroPol-5
Fully automatic, microprocessor-controlled electrolytic polishing and etching apparatus. Complete with control unit, polishing unit, and external etching unit. One set of masks and two electrolyte containers are included.
Technical Data

LectroPol Technical Data Sheet
Struers Technical Data Sheets are designed to help you make the best choice of equipment for your particular purpose. You can find important information such as capacity and performance specifications, dimensions, weight, electrical data, noise levels, ambient conditions, and safety. In many cases you can also obtain an overview of accessories offering higher capacity and performance.
Struers' equipment is in conformity with the provisions of the applicable international directives and their appurtenant standards.
Struers' products are subject to constant product development. Therefore, we reserve the right to introduce changes to our products without notice.
---