Tegra Hot Cell System
Tegra Hot Cell System
User-friendly equipment for materialographic preparation of radioactive material in hot cells
Tegra Hot Cell System facts
Easy installation in hot cell
Robust and reliable
Easy to use
Remote operation
Remote handling of specimens
Radiation-resistant materials
Minimal radioactive waste
User-friendly equipment for materialographic preparation of radioactive material in hot cells
Benefits

Easy handling
Adapted for remote operation and remote handling of specimens, the equipment enables changing of consumables between preparation steps and is operated using touchpad controls. Manipulation is simplified by using the MDSystem with polishing cloths and magnetic fixation of grinding and polishing disks.
Easy to clean and decontaminate
Special design and surface treatment of the stainless steel or aluminum cabinets enable easy cleaning. The tray on the grinding and polishing machines is detachable for easy and safe removal of contaminated debris.
Easy maintenance
A sturdy, reliable design minimizes the need for service and repair. The equipment can be moved and turned in the hot cell for easy access. Maintenance and exchange of vital parts including motors, belts, and plastic tubes can be carried out in the cell using manipulators.
Used in these industries:
Automotive
Aerospace
Electronics
Manufacturing
Education & Research
Facts
Model types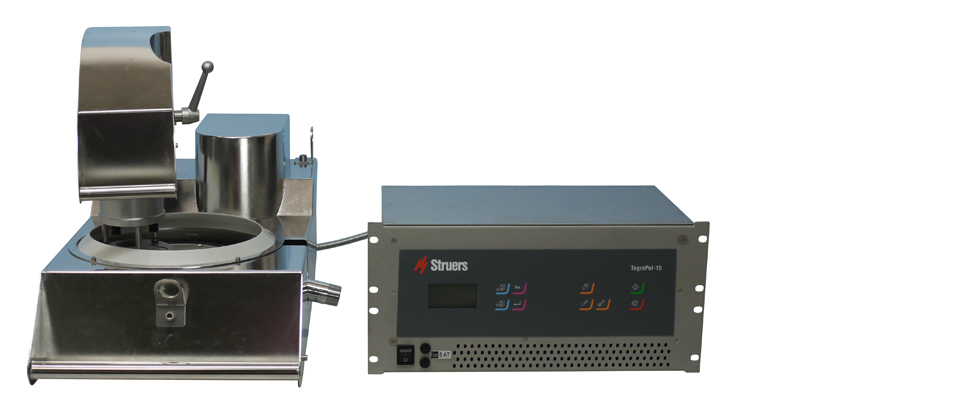 TegraPol-15 for Hot Cell
Grinding/polishing machine with variable speed (40-600 rpm in steps of 10 rpm).For disk 200 mm (8.0") dia. 370 W motor. Complete with control box with electric parts and controls for rack mounting outside the hot cell. Disks are ordered separately. Length of supply cable is 8.0 m; if other length is wanted, specify when ordering.
1/3 x 200–240 V / 50-60 Hz.
TegraForce-1 for Hot Cell
Automatic specimen mover with variable speed (50-150 rpm in steps of 10 rpm). For fine grinding and polishing of one to three single specimens or grinding and polishing of three specimens fixed in a specimen holder. Dosing unit, specimen mover plates, and specimen holders are ordered separately. Length of tube for compressed air is 8.0 m; if another length is wanted, specify when ordering.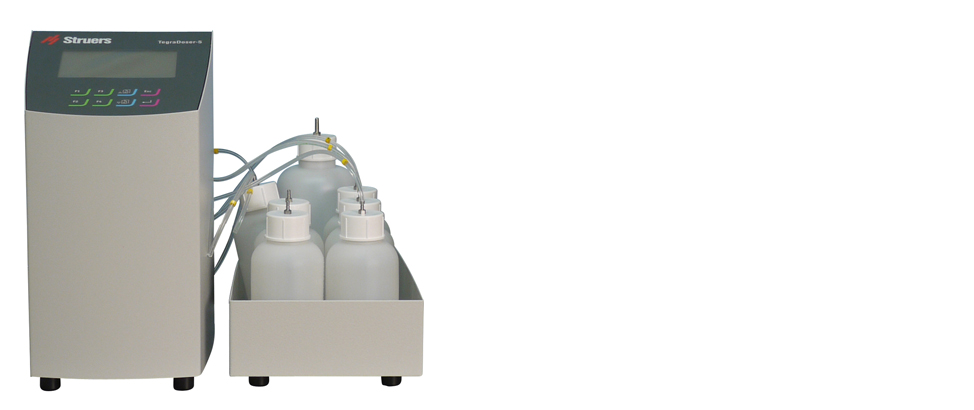 TegraDoser-5 for Hot Cell
Dosing unit and database for preparation methods. With peristaltic pumps. For automatic dosing of diamond suspensions and lubricants. Can be used for supply of water. TegraDoser-5 for hot cell is placed outside the hot cell. The nozzle block is mounted on TegraForce-1 for a hot cell. The peristaltic pumps cannot reverse. The built-in database contains the ten Metalog Guide methods and has a capacity for additional 190 user-defined preparation methods. Length of tubes is 8.0 m; if other lengths are wanted, specify when ordering.
With six pumps for diamond suspensions or lubricants and one pump for water.
Technical Data

Tegra Hot Cell System Technical Data Sheet
Struers Technical Data Sheets are designed to help you make the best choice of equipment for your particular purpose. You can find important information such as capacity and performance specifications, dimensions, weight, electrical data, noise levels, ambient conditions, and safety. In many cases you can also obtain an overview of accessories offering higher capacity and performance.
Struers' equipment is in conformity with the provisions of the applicable international directives and their appurtenant standards.
Struers' products are subject to constant product development. Therefore, we reserve the right to introduce changes to our products without notice.
---