TargetSystem
TargetSystem
Automatic Target Preparation for Both Visible and Hidden Targets
TargetSystem facts
Drastically reduced preparation time
No dependency on operator skills
Full reproducibility
No need for costly abrasive films
TargetSystem is designed for target preparation of microelectronic components and delayering. It is the first failure analysis tool permitting real-time alignment and measurement of both visible and hidden targets, such as microvias and BGAs. System precision is an exceptional +/- 5.0 µm.
Benefits
Short Preparation Times
An intelligent preparation system (IPS) automatically adapts the removal time and rate according to actual specimen properties and the grinding/polishing surface. This means fewer measurements and preparation times, down to less than 30 minutes.
Reproducibility
Automated processes make TargetSystem independent of operator skills, ensuring reproducibility regardless of the operator.
Low Operating Costs
TargetSystem can be used with any SiC paper, or any other consumable, and does not need costly abrasive films.
Used in these industries:
Automotive
Aerospace
Electronics
Manufacturing
Education & Research
KEY UNITS THAT ENABLE AUTOMATIC TARGET PREPARATION FOR BOTH VISIBLE AND HIDDEN TARGETS
Facts
Model types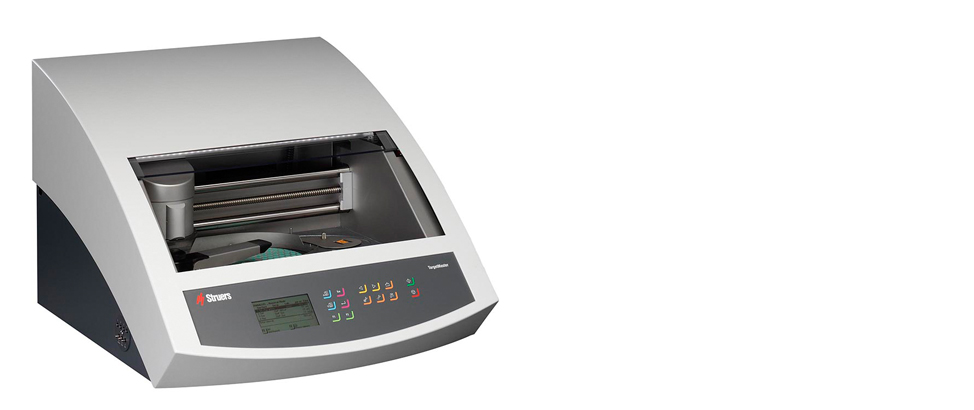 TargetMaster
200 mm micropolisher for automatic target preparation. Tiltable holder for 30 mm specimens and 200 mm MD-Disk included.

The dosing system is ordered separately.
Technical Data

TargetSystem Technical Data Sheet
Struers Technical Data Sheets are designed to help you make the best choice of equipment for your particular purpose. You can find important information such as capacity and performance specifications, dimensions, weight, electrical data, noise levels, ambient conditions, and safety. In many cases you can also obtain an overview of accessories offering higher capacity and performance.
Struers' equipment is in conformity with the provisions of the applicable international directives and their appurtenant standards.
Struers' products are subject to constant product development. Therefore, we reserve the right to introduce changes to our products without notice.
---