CitoVac
CitoVac
User-friendly vacuum impregnation unit, especially designed for impregnation of porous materials
CitoVac facts
Trouble-free filling of the mounting cups with no spilling
User-friendly operation
Optimum safety
Less cleaning
Room for many and/or large specimens
CitoVac gives the user a superior impregnation which is carried out quickly and efficiently. Perfect for porous materials, such as specimens for failure analysis with cracks, porous casts, and composites, electronic components, rocks minerals, ceramics, and spray coatings. CitoVac is extremely user-friendly, and is equipped with a spacious vacuum chamber.
Benefits

High-quality mounting
Perfect impregnation of porous specimens requires that there is no air in the pores and cracks of the specimens when the impregnation material is applied. The only way to obtain this is to impregnate under a vacuum. CitoVac ensures a perfect impregnation of the specimens.
Easy to use
Just a few touchpad keys make for easy operation. The display shows settings, present vacuum, and time. The display and touch pad are placed behind the chamber to avoid soiling with mounting material.
High Productivity
Up to eight specimens can be impregnated simultaneously . Special mounting cup holders make it fast and easy to handle multiple specimens at the same time without spillage of impregnation material in the vacuum chamber or outside on the cabinet. All parts exposed to contact with mounting materials are disposable in order to minimize cleaning.
Used in these industries:
Automotive
Aerospace
Electronics
Manufacturing
Education & Research
KEY FEATURES THAT ENABLE PERFECT MOUNTING OF POROUS MATERIALS
Facts
Model types
CitoVac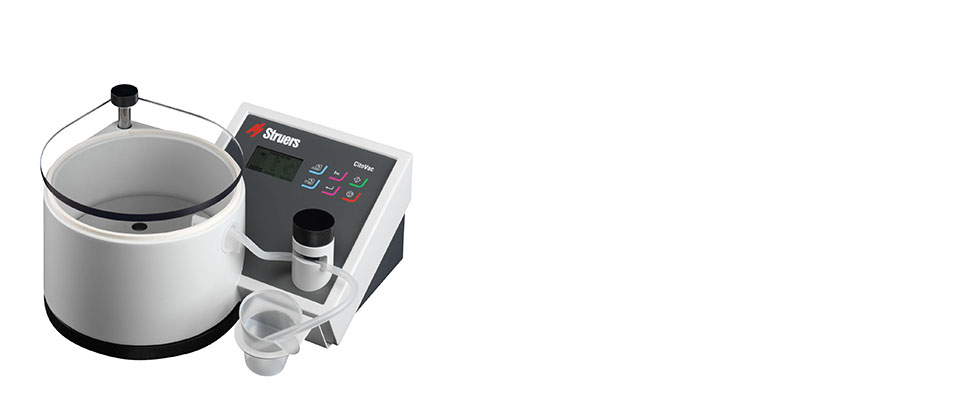 CitoVac with built-in vacuum ejector
Vacuum impregnation unit. Compressed air supply 4.5 - 6.0 bar required. 1.0 x 100–240 V / 50-60 Hz.

CitoVac for external pump
Vacuum impregnation unit. External vacuum pump required. 1.0 x 100–240 V / 50-60 Hz.
Technical Data

Citovac Technical Data Sheet
Struers Technical Data Sheets are designed to help you make the best choice of equipment for your particular purpose. You can find important information such as capacity and performance specifications, dimensions, weight, electrical data, noise levels, ambient conditions, and safety. In many cases you can also obtain an overview of accessories offering higher capacity and performance.
Struers' equipment is in conformity with the provisions of the applicable international directives and their appurtenant standards.
Struers' products are subject to constant product development. Therefore, we reserve the right to introduce changes to our products without notice.
---