Minitom
Minitom
Small, automatic tabletop precision cut-off machine for sectioning all materialographic and ceramic specimens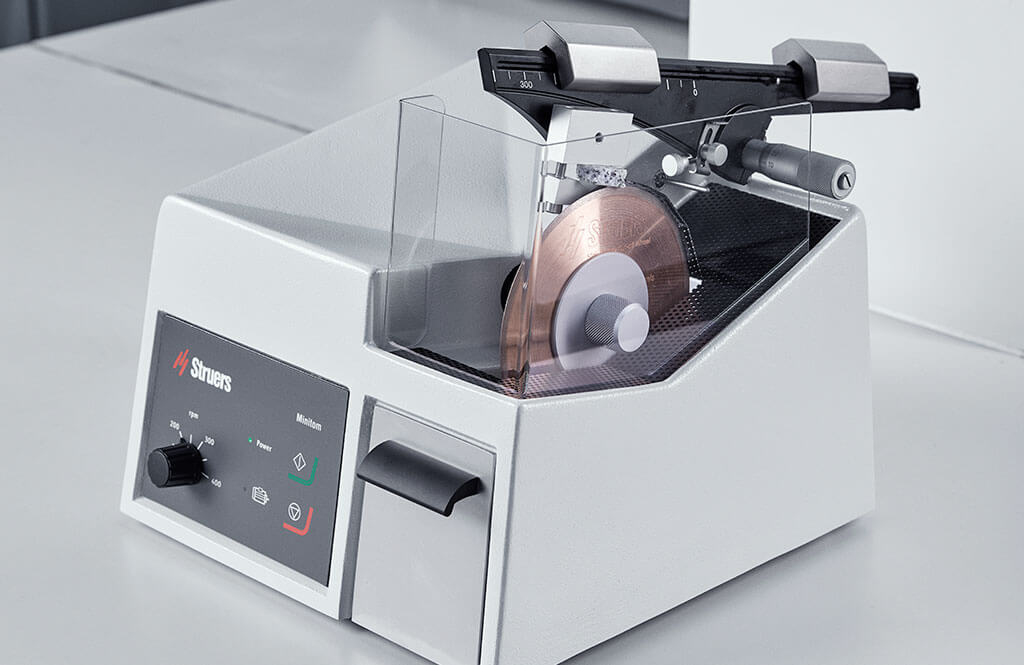 Minitom facts
Simple operation
Powerful motor
High precision
Functional design
Easy to clean
75-127 mm (3"-5") diameter cut-off wheel size
The ideal low-speed, precision cut-off machine for small laboratories, Minitom is very easy to operate. The cutting speed is continuously variable, and the motor is designed to ensure that the selected speed remains constant at any load. Maximum specimen size is 30 mm diameter.
Benefits
Compact
With a width of 280 mm and depth of 400 mm, Minitom is designed for tabletop use in the laboratory.
Versatile
Minitom can be used to section all types of mineralogical and ceramic specimens. Cut-off wheels are available with different grain size and concentration to ensure the right choice of cut-off wheel for any type of material.
Easy to use
A few minutes are required to fixate the specimen and set specimen size, cutting speed, and cutting pressure. The motor is designed to ensure that the selected speed remains constant at any load.
Used in these industries:
Automotive
Aerospace
Electronics
Manufacturing
Education & Research
KEY FEATURES ENABLING PRECISION SECTIONING OF ALL TYPES OF SPECIMENS IN THE LAB
Facts
Model types
Technical Data
Minitom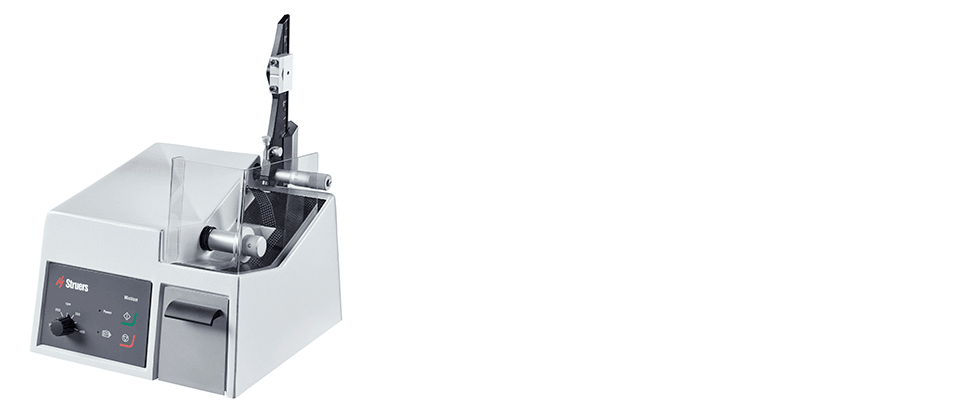 Minitom
Low-speed precision cut-off machine. Complete with universal specimen holder and flange set 65 mm dia., as well as 42 mm dia. Cut-off wheels are ordered separately. 100-240 V / 50-60 Hz.
Technical Data

Minitom Technical Data Sheet
Struers Technical Data Sheets are designed to help you make the best choice of equipment for your particular purpose. You can find important information such as capacity and performance specifications, dimensions, weight, electrical data, noise levels, ambient conditions, and safety. In many cases you can also obtain an overview of accessories offering higher capacity and performance.
Struers' equipment is in conformity with the provisions of the applicable international directives and their appurtenant standards.
Struers' products are subject to constant product development. Therefore, we reserve the right to introduce changes to our products without notice.
---