Axitom
Axitom-5
Fully automatic cut-off machine, designed for maximum user friendliness
Axitom facts
Largest cutting table in its class
Three different cutting modes
Automatic serial cutting
Automatic cleaning
User-friendly operation
Optimized feed for fastest cutting
Corrosion-resistant cutting chamber
350 mm (14") diameter cut-off wheel size
Axitom is a fully automatic cut-off machine designed for maximum user friendliness. Axitom is ideal for the production floor with its very large cutting table and easy-to-use controls. The spacious cutting chamber is equipped with two automatic cutting tables. The X-table for serial cutting of parallel sections and the Y-table for cutting of extra deep workpieces. Cutting parameters such as feed speed, force, and stop positions are easily controlled using the multifunction knob.
Benefits
Multi-function flexibility
Axitom is ideal for cutting the hardest materials and sectioning of large workpieces. It features four programmed MultiCut modes, one of which interacts with the built-in database function to enable fast, productivity-enhancing changes between cutting methods.
Easy to use
The robust joystick is designed for production environments and can be moved in three different axes to control the cut-off wheel and both the X- and Y-tables. The Multifunction knob is used for setting all cutting parameters, and can be operated even with work gloves. A large graphical display with a resolution of 640 x 480 pixels enables display of all cutting parameters at a single glance, even at a distance.
Easy machine care
AxioWash* is an automatic chamber cleaning function that can be used every day to keep the machine in optimal working condition. All it requires from the user is cleaning of the horizontal surfaces.
Used in these industries:
Automotive
Aerospace
Electronics
Manufacturing
Education & Research
Discover more
KEY FEATURES THAT ENABLE EASY CUTTING OF HARD MATERIALS AND LARGE WORKPIECES ON THE PRODUCTION FLOOR
Facts
Axitom-5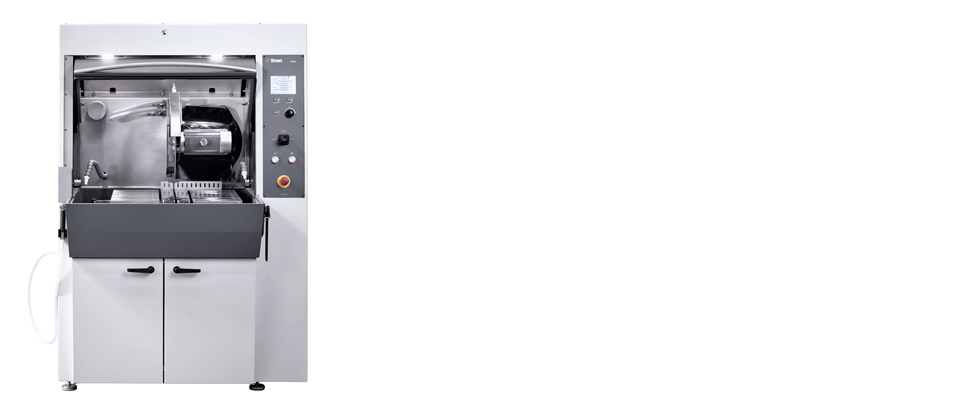 Axitom-5
Automatic cut-off machine with ExciCut, AxioCut Step, MultiCut, Direct Cut, and OptiFeed.
With automatic X-table and automatic Y-table. 5.5 - 6.5 kW motor. For 350 mm dia. cut-off wheels.
Cooling unit, drain, and clamping tools have to be ordered separately.
Technical Data

Axitom-5 Technical Data Sheet
Struers Technical Data Sheets are designed to help you make the best choice of equipment for your particular purpose. You can find important information such as capacity and performance specifications, dimensions, weight, electrical data, noise levels, ambient conditions, and safety. In many cases you can also obtain an overview of accessories offering higher capacity and performance.
Struers' equipment is in conformity with the provisions of the applicable international directives and their appurtenant standards.
Struers' products are subject to constant product development. Therefore, we reserve the right to introduce changes to our products without notice.
---