Exotom
Exotom-150
Sturdy, high-power cut-off machine for large workpieces
Exotom facts
Easy cutting of the hardest workpieces
Easy cutting of extra-large workpieces
Intelligent feed control
Automatic cleaning
Easy positioning
Easy to use
432 mm (17") diameter cut-off wheel size
High cutting power and a spacious and accessible cutting chamber makes Exotom-150 ideal for cutting large workpieces or for large volume production. The unique ExciCut feature means faster and cooler cutting, less wear on the cut-off wheel and plane, and deformation-free specimen surfaces.
Benefits
Faster cutting
Exotom is ideal for cutting the hardest of materials, faster cutting of standard materials, and very fast cutting of extra-large workpieces. OptiFeed force control enables cutting at the fastest possible speed within set parameters without overloading the workpiece and the cut-off wheel.
Minimum deformation
ExciCut technology ensures minimal contact area between the cut-off wheel and the workpiece, with reduced risk of damage and less work in subsequent preparation processes.
Simple to operate
Two simple keys combined with a large graphic display are incorporated on a swiveling control panel. The multifunction knob enables easy control of all cutting parameters, even when wearing work gloves. The joystick enables fast and precise positioning of the cut-off wheel.
Used in these industries:
Automotive
Aerospace
Electronics
Manufacturing
Education & Research
KEY FEATURES THAT ENABLE HIGH-POWER CUTTING AND DEFORMATION-FREE SPECIMEN SURFACES
Facts
Model types
Exotom-150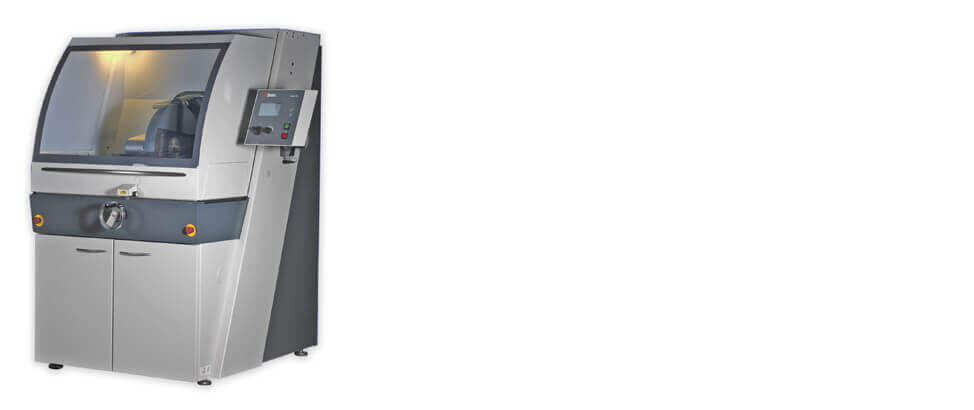 Exotom-150
Automatic cut-off machine with OptiFeed, ExciCut, and Direct Cut.
7.5-9.0 kW (10-12 HP). For 432 mm (17") cut-off wheels. Fixed cutting table with
12 mm T-slots. Recirculation cooling unit, quick-clamping devices, and vertical clamping system,
respectively, are ordered separately.
Exotom-150, X-table
Same specifications as the Exotom-150, but with moveable cutting table with 12 mm T-slots for parallel cuts.
Exotom-150, AxioCut
Same specifications as Exitom-150, including Axiocut.
Exotom-150, X-table, and AxioCut
Same specificationa as the Exotom-150, including moveable cutting table and Axiocut.
Technical Data

Exotom-150 Technical Data Sheet
Struers Technical Data Sheets are designed to help you make the best choice of equipment for your particular purpose. You can find important information such as capacity and performance specifications, dimensions, weight, electrical data, noise levels, ambient conditions, and safety. In many cases you can also obtain an overview of accessories offering higher capacity and performance.
Struers' equipment is in conformity with the provisions of the applicable international directives and their appurtenant standards.
Struers' products are subject to constant product development. Therefore, we reserve the right to introduce changes to our products without notice.
---